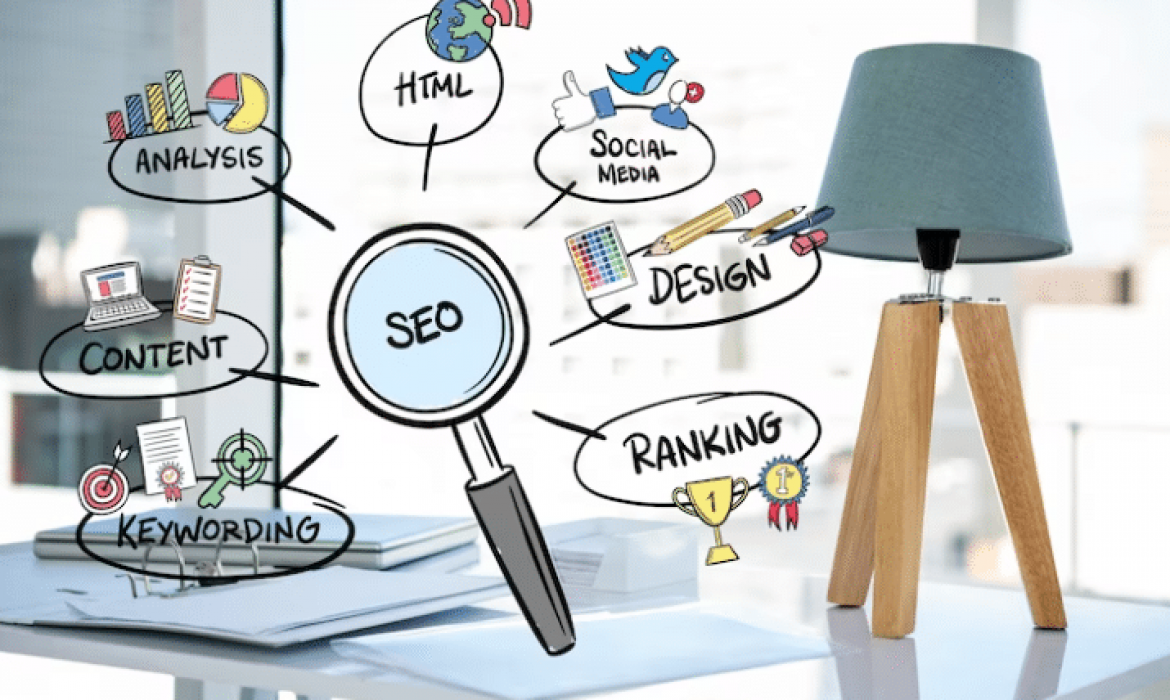 In the rapidly evolving digital landscape of 2023, on-page SEO services have emerged as a cornerstone for businesses striving to establish a robust online presence. As search engines continue to refine their algorithms, mastering precise on-page optimization techniques has become indispensable. This comprehensive guide delves deep into the essential tactics necessary to excel in on-page SEO. This provides invaluable insights for businesses aiming to thrive online.

By focusing on user-centric content, mobile-friendly designs, and strategic keyword placement, this guide uncovers the secrets to increasing website visibility, attracting organic traffic, and gaining a competitive advantage in the fiercely competitive realm of online marketing. Stay ahead of the competition by implementing these strategies and ensuring your online presence stands out in the digital crowd.
Understanding On Page SEO
On-page SEO is optimizing individual web pages to increase search engine ranks and attract relevant visitors. Unlike off-page SEO, which focuses on external elements such as backlinks, on-page SEO focuses on content and HTML source code. This methodical technique includes naturally incorporating target keywords, writing interesting meta descriptions, and optimizing headers and URLs.
Businesses may improve their online presence, attract organic visitors, and raise conversion rates by perfecting these factors. Companies may build a user-friendly experience, connect their content with search intent, and establish a robust digital presence in the competitive online landscape by focusing on on-page characteristics.
Keyword Research
Thorough keyword research is the cornerstone of success in the world of on-page SEO. By identifying relevant keywords relating to your business area, such as "on-page SEO services," you may establish a solid foundation for your SEO approach. These specific terms appeal to potential customers, boosting the likelihood of generating organic visitors.
Using modern keyword research tools, you can find a profusion of relevant keywords and phrases. Aligning your content with these insights guarantees that your website will rank better, making it more accessible and appealing to your target audience.
SEO-Friendly URLs
SEO-friendly URLs are critical for on-page optimization. A well-structured URL provides valuable information about the page's content to both visitors and search engines. Use the target keyword in the URL, but make it brief, descriptive, and easy to read. A clean URL structure improves user experience & the ability of search engine crawlers to index your sites.
Title Tags and Meta Descriptions
Title tags & meta descriptions play a vital role in determining a page's search visibility. Including the target keyword near the beginning of the title tag improves search engine relevance. While meta descriptions don't affect rankings directly, they are essential in driving clicks.
Crafting compelling meta descriptions that integrate the keyword flawlessly captivates users, boosting their likelihood of clicking on your link. These elements act as intriguing snippets, persuading readers to dig deeper into your material making them essential components of a successful on-page SEO strategy.
Header Tags
Header tags, such as H1, H2, H3, and so on, serve an essential function in organizing material hierarchically. They act as markers for both users and search engines, indicating the structure of your content.
By strategically inserting the target term into at least one header tag, you stress its importance to search engines, increasing the relevance of your content. Properly formatted headers not only improve user readability but also help search engines grasp the context of your content, enhancing your on-page SEO efforts.
High-Quality Content
The importance of content quality in on-page SEO cannot be overstated. It is critical to provide content that is not only educational and engaging but also addresses user questions and gives solutions. The idea is to avoid keyword stuffing by seamlessly integrating the target keyword into the article.
By focusing on providing meaningful, user-focused content that resonates with your audience, you not only improve your search engine visibility but also develop your industry authority, encouraging trust and confidence among your readers.
Mobile-Friendly Design
In today's mobile-first world, having a website that's mobile-friendly is not a luxury but a necessity. With most internet users accessing the internet via smartphones and tablets, an adaptable design is essential. Google's emphasis on mobile-friendliness in search rankings highlights the crucial importance of mobile optimization in on-page SEO services.
It is critical to ensure that your website provides a perfect user experience, with easy navigation across multiple devices and screen sizes. It is vital to prioritize mobile responsiveness to reach and engage a larger online audience.
Page Loading Speed
The speed with which a webpage loads impacts user experience & search engine rankings. Websites that load slowly irritate users and encourage them to leave your site. Improve the efficiency of your website by compressing pictures, and JavaScript files, and utilizing browser caching. A fast-loading website not only enhances customer satisfaction but also improves search engine rankings, resulting in increased visibility in search results.
Internal And External Links
Internal and external links are essential on-page SEO techniques. Include internal links to direct users to relevant sites on your website. Internal linking increases user navigation while also distributing link equity throughout your site. Include high-quality external links to reliable sites relating to your material as well. Outbound connections to credible websites establish your content's credibility, increasing its value to visitors and search engines.
Image Optimization
Image optimization is critical for visual appeal and user engagement. Large, unoptimized photos, on the other hand, can cause your website to load slowly. Compress photographs without sacrificing quality to optimize them. Add descriptive alt text to photos, incorporating the target phrase as needed. Images that are properly optimized increase page loading time accessibility for users with impairments and contribute to a better user experience.
User Experience (UX) and Accessibility
User experience and accessibility will be critical components of on-page SEO. A website that is easy to use and has clear calls to action increases user satisfaction and engagement. Furthermore, making your website accessible to persons with disabilities not only broadens your audience but also conforms to search engine rules. To develop an inclusive online experience, prioritize readability, color contrast, and keyboard navigation.
Conclusion
Businesses may increase their search engine results, generate relevant organic visitors, and eventually achieve their online goals by efficiently adopting these on-page SEO tactics. It is a good option if you go with the professional for on-page SEO. If you're looking for on-page SEO services, you can reach out to Geek Informatics and Technologies Private Limited. We can help you grow your business. Maintain your online presence in the digital landscape by staying current on the newest SEO trends and best practices. For more information, you can contact us!