The time is here, and it's the world's largest tech show, "GITEX 2023". Happening in the realm of 2023 and bringing innovation to life. GITEX will happen in the Dubai World Trade Center between the 16th and 20th October. 2023 is all about new-age technology, as is this latest tech fest. Get ready to garner attention and delve into the world of AI. 
Yes, AI is taking a toll, and now it's time to face reality and embrace the change. GeekTech is excited about this new era and stated that we will attend GITEX 2023 in Dubai. Before delving into our visit and vision details, let's know more about the technology show. Keep reading for more!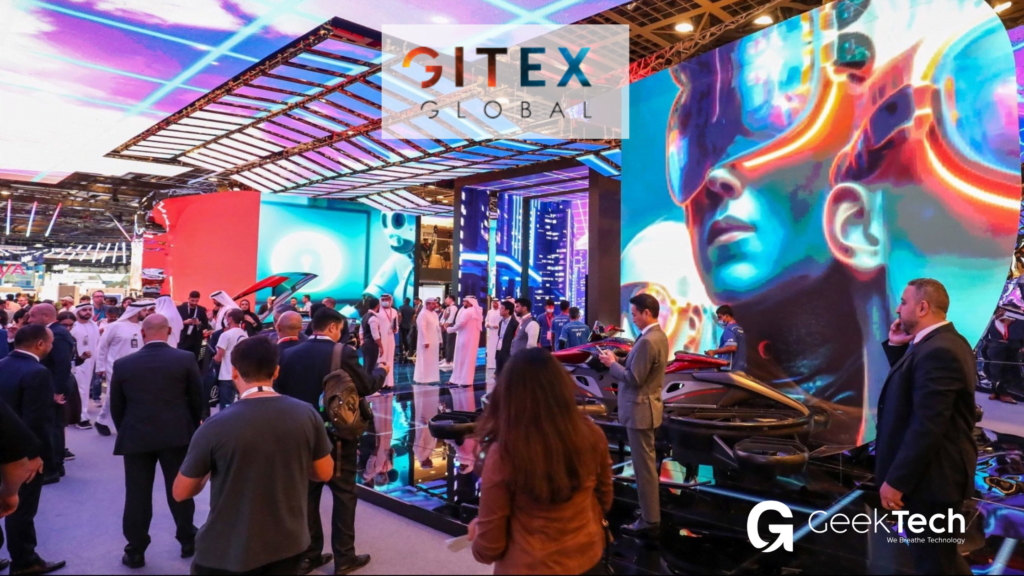 What Exactly is GITEX?
The Gulf Information Technology Exhibition (GITEX) is an annual convention in Dubai, UAE. As a venue for IT corporations, startups, and enthusiasts to showcase their wares, it has become a major industry event.
Since its inception in 1981, GITEX has expanded to include many fields linked to information technology. It's grown famous as the incubator of innovative concepts and the meeting point for business people worldwide.
Participation in and hosting conferences like GITEX 2023, where various stakeholders from across the globe come together to share information, stimulate innovation, and develop important connections, are examples of Dubai's dedication to cooperation.
Who Participates in GITEX 2023?
Entrepreneurs, new firms, and established corporations will all be in attendance at GITEX 2023 to network with one another and share ideas for expanding and improving their respective industries. Companies of all shapes and sizes may be found at GITEX. 
Software and hardware developers, equipment manufacturers, vendors of cloud services, cybersecurity groups, artificial intelligence and machine learning firms, robotics professionals, and many more are just a few of the numerous types of participants. This eclectic blend creates an atmosphere that is equal parts innovative idea exchange and healthy competition.
Why You Should Join GITEX 2023? 
A company's development, exposure, and industry preeminence may all gain from participating in the GITEX tech event 2023.
Expanded Influence
People worldwide, including prospective customers, investors, and IT enthusiasts, attend GITEX. Businesses are able to showcase their wares to a wide and varied audience in this setting.
Alliances with Prominent Professionals
Meeting other business leaders, decision-makers, and potential collaborators is easy at GITEX. Making meaningful relationships may lead to fruitful collaborations, joint ventures, or strategic partnerships.
Learning Communities
Workshops & seminars presented by experts in the field will also be part of the Dubai Tech Conference 2023. Workshops like this provide participants with the knowledge and skills necessary to remain ahead of the curve in the rapidly evolving digital industry.
Know Current Industry Trends
If you work in IT or just started out in the IT business, GITEX is a terrific venue to meet 400+ of the most prominent investors and 176+ global tech entrepreneurs.
Original Concepts
Over five thousand industry experts and innovators will be present, and you may network with them while taking in thought-provoking talks and seminars at the technical conference.
Get FaceTime With Your Favourite Brands
Meeting representatives from leading global IT firms is a major benefit of attending GITEX.
Get Information Regarding Your Concerns
If you're having trouble deciding on the correct IT goods or simply need someone to talk to, GITEX is the perfect location for you.
GeekTech Presence in GITEX 2023
GeekTech, a prominent name in the global technology market, will attend GITEX 2023. With its innovative approaches and dedication to the clients, we have established ourselves as the industry leader. We are also driven towards growth and learning, which is why we are visiting GITEX 2023. 
It's time to adapt to new-age technology and imagine AI in everything. Hence, GeekTech is ready. Let's meet if you also visit the GITEX show at the Dubai Trade Center between 16 and 20 October. 
It would be a great chance to explore the interests and knowledge of fellow entrepreneurs. Our driving forces, Satinder Bal and Inderjeet Singh, will be available to meet you and help you out!
See you there!