GeekTech is a Result-Driven Conversion-oriented and Audience-Targeted Marketing Agency that turns any online business into a well-established BRAND. From Search Engine Optimization, PPC Google Paid Marketing, and Social Media Marketing to Website Design, Web Development, and App Development (Android/iOS), with our digital marketing and development services. We exceed your expectations, position you for success and help you achieve your goals in a short span.

Search Engine Optimization
Bring more traffic to your website with Geek Tech's SEO services. Whether you want to maintain your current position or boost your organic traffic, our SEO experts help you draw more traffic, expand your visibility, and enhance your overall leads.
PPC Google Paid Marketing
Get better Return on Investment with Geek Tech's Pay-Per-Click Google Paid Marketing. We provide you with an opportunity to be visible above organic search results in a few days.
Social Media Marketing
With our Social Media Marketing service, we can help you to grow your audience, drive engagement, and stay relevant by posting engaging contact on social media platforms. We keep your social media profiles accurate, updated and complete, allowing you to build real relationships with your customers.
Web Application Development
Geek Tech provides end-to-end web application development services, from creating a prototype to building complex web application's using the newest technologies.
Website Design
Whether you need to freshen up the visual style of your website or update company branding, Geek Tech's web designing team ensures to put the best foot forward to make a huge difference to your web presence. Our web designers help you gain a competitive advantage in your field and boost the overall image of your business. We offer free wire framing for projects to structure your ideas into reality.
Website Development
At Geek Tech, we connect your targeted audience to your brand, bringing eye-catching designs to life. Be it Php, Java, WordPress. .NET or ASP.net, we use the best tools to design and develop an intuitive and user-friendly website that makes your business stand out from the rest.
Application Development (Android/iOS)
Get end-to-end Android and iOS mobile app development solutions for startups and enterprises at Geek Tech. Our mobile app developers develop high-quality mobile apps for any category, bringing years of experience on the table. Ensuring enhanced safety and smooth performance, we solve any business challenge with functional, flexible and well-designed mobile apps.
Save Time & Effort
With the GeekTech

Attention to Detail
Our attention to detail, scheduled timelines, and precise project management make us stand apart from the crowd. We keep a close eye on the budget and calendar of our clients.

A Success Plan
Let's face it - you (client) want results. The best way to do so is the upfront research of your competitors, company, customer psychographics, and target market. At Geek Tech, we understand brands and customers' needs, and therefore, we create a plan that never fails.

Creativity
We bring a diverse background of digital marketing, branding, and website/mobile app design & development to work for your business. Our services not only look tempting, but they will get you results as well. Once we have the complete picture of your company's goals and target audience, we will create a detailed and creative plan that leads you to success.

Professional & Friendly Team
Our enthusiastic technocrats' team includes Content Writers, SEO & PPC specialists, Designers, Developers, and Email-Marketing experts - hail from different backgrounds. We work 24/7, ensuring you provide the results you are looking for.

Meeting Deadlines
We have worked with many clients, including those with a rule - if you miss a deadline, you are out! Some of them even have tightest deadlines and turnarounds in the business. Trust us; we never missed any of our deadlines.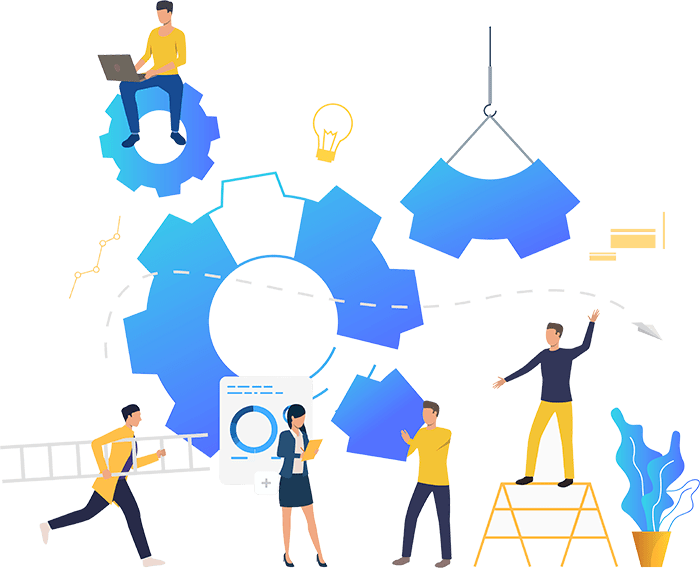 Men and women, committed to better protect you around the world.
Where you will find the same quality of service and dedication around the world.
Making us one of the leading IT company around the globe.
Looking for free analysis?
If yes, fill the form below and let one of our executives get back to you.